Inquiries from Call Centers
Request our Credit Reports at our Call Centers.
Ubique el locutorio más cercano llamando a los teléfonos +5411 2206 8020 y +5411 5166 8020 o por medio de nuestro formulario de contacto.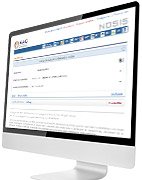 Nosis at your Call Centre
Offer Nosis services
from your Call Centre.
Atención al Cliente
Subscribe us
Get to know our strategic information solutions for you and your company.